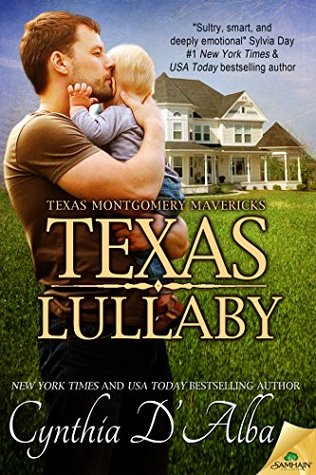 Available April 12th 2016
eARC provide by author for honest review
When Fate tosses you in the deep end, it's time to sink or swim.
Texas Montgomery Mavericks, Book 7
Lydia Henson's four-year-long engagement to Jason Montgomery is about to end in a Texas wedding everyone is anticipating. She's come to accept Jason doesn't want children. She can live without children. She can't live without the man she loves.
Jason has never wanted a family. At least, that's his story and he's sticking to it. The falsehood is less emasculating than the truth. Yet when tragedy on the eve of their wedding lands Lydia with her sister's children to raise, Jason finds himself surprisingly calm in the midst of the chaos.
Everything he swore he didn't want seems as natural as breathing. But just as he gathers the courage to grab for the golden ring, another unexpected twist threatens to tarnish what could have been a shining future.
Book 7 is the final book in the Montgomery Mavericks series by Cynthia D' Alba. I have been lucky enough to read and review all the books in this series and hated to see it end. Throughout the series i have followed Jason Montgomery and Lydia Henson's relationship. Just on the cusp of their wedding tragedy strikes when a terrible accident in Lydia's family hands her 3 small children. Thrust into motherhood she never thought she would experience she has to juggle her grief along with the kids to find her way to her new normal. Jason has always told anyone who brought it up he didn't want kids and any women he married would have to be ok with that. Faced with Lydia's new charges though he is rethinking that stance. It's hard not to love the sweet twin girls and their baby brother. It takes about a minute for Jason to fall in love with them. Things don't go so smoothly for Jason when he realizes Lydia is acting like they aren't together anymore. I loved this book. Jason has a deep dark secret he's been keeping to himself since he was 20. His only chance might be telling it. Jason and Lydia have loved each other for so long and they struggled to get to their special day. Jason is a rock for Lydia but after years of saying no kids she believes him wholeheartedly and Jason realizes he has a real problem. Watching them struggle to figure out their new reality was heart wrenching at times and just when you think it might really be over Jason and Lydia both get a clue. Awesome ending with a peek at what the future looks like with a epilogue at the end.