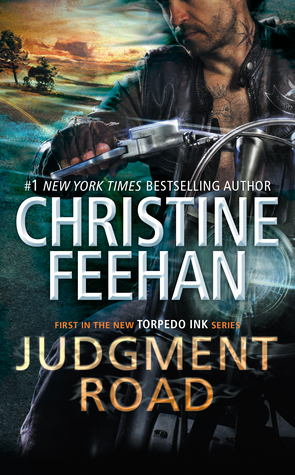 Available January 23, 2018
eARC Provided by publisher through Netgalley
An outlaw motorcycle club sets up shop next door to Sea Haven in the dangerously sexy new series from #1 New York Times bestselling author Christine Feehan.
As the enforcer of the Torpedo Ink motorcycle club, Reaper lives for riding and fighting. He's a stone-cold killer who turns his wrath on those who deserve it. Feelings are a weakness he can't afford--until a gorgeous bartender gets under his skin...
Near Sea Haven, the small town of Caspar has given Anya Rafferty a new lease on life. And she's desperate to hold on to her job at the biker bar, even if the scariest member of the club seems to have it out for her. But Reaper's imposing presence and smoldering looks just ratchet up the heat.
Anya's touch is everything Reaper doesn't want--and it brands him to the bone. But when her secrets catch up to her, Reaper will have to choose between Anya and his club--his heart and his soul.
This is first in a new series but with characters from a couple of previous series. Reaper is the enforcer for Torpedo Ink motorcycle club. He's been protecting his brothers and sisters for years, it's second nature. Anya Rafferty is new to the town of Caspar. She's hiding out working as a bartender in a biker bar owned by Torpedo Ink until Reaper tries to get rid of her. It backfires on him when Czar, the club president won't follow along. This is a intense story in many ways. The men and women of Torpedo Ink were born and raised in Russia in a school where they learned despicable things and had to do terrible stuff to survive until they could escape. Anya Rafferty had her own terrible upbringing living with her mother in shelters until she slowly pulled herself out of that life training to be a bartender. Only she loses it all and goes on the run when the she sees and hears something she should not have. This is a no holds barred series with intense sex scenes and violence and killing with some romance mixed in. If this is something you can't handle this series isn't for you. Torpedo Ink members have made a family for themselves. They may be a bit dysfunctional after all that has happened to them but they still know wrong from right and are willing to work on fixing their issues and there are many. I liked the characters even if some where pretty intense at times. What i didn't care for was the author repeating things she's already said over and over. It wasn't crazy but more than necessary where i glossed over some of it. Over all i enjoyed the book and am curious to see what comes next.
Find out more about Christine Feehan and this series here
www.christinefeehan.com