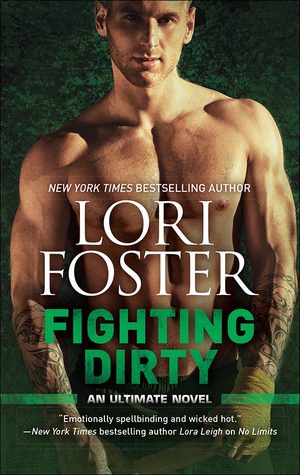 Available now!
eARC Provided by publisher through Netgalley
With the life he's led and the muscles he's gained, Armie Jacobson isn't afraid of anything. Except maybe Merissa Colter's effect on him. It's not just that she's his best friend's little sister. Fact is, she deserves better. Women pursue him for one night of pleasure, and that's all he wants to offer. Until rescuing Merissa from a robbery leads to the most erotic encounter of his life.

Good girl meets bad boy. It's a story that rarely ends well. But Merissa is taking matters into her own hands. No matter how he views himself, the Armie she knows is brave, honorable and completely loyal. And as past demons and present-day danger collide, they're both about to learn what's truly worth fighting for…
The 4th and last in this latest group (Ultimate series) of spin off books from the Men who Walk the edge of Honor series. I have read there is a new spin off from this Ultimate series now too. Lori Foster continues with her beloved MMA fighters. Armie who i think is the most popular character in this series finally get what he deserves. Armie is a great guy who doesn't see himself that way. He came from a crappy home life, but one great best friend (Cannon) who has had his back since they were kids. Merissa who is Cannon's sister has had her eyes set on Armie forever but he never thought he was good enough for her. Now that Armie has signed with the SBC which is the big time for a MMA fighter his past might be back to haunt him. Or is it? This is actually quite a action packed book. There are bad guys but the who they are is a mystery. Is this Cannon's past coming back now that his name is out there or something else? I loved Armie and Merissa. Both are really no nonsense people with great insight into people and big hearts. It was fun to watch the two find their way to each other. An Amazing story with characters from previous books and previous series. Love how Lori Foster hooks these series together. Love love love me some Armie!
Find out more about this book and series here
www.lorifoster.com