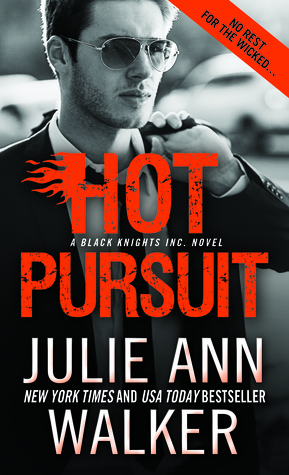 Available now!
eARC provided by publisher through Netgalley
He puts the hot...
Christian Watson, a former SAS officer and current BKI operator, never thought he would return to England after a terrible turn of events forced him to abandon his homeland. But now he's back on British soil where old enemies are determined to do him in. Fighting for his life is pretty much SOP for Christian. Doing it with the beautiful, bossy Emily Scott in tow is another matter entirely.
In hot pursuit.
Emily lost her coveted job at the CIA because of a colleague turned rogue, and now she has just one rule when it comes to men: they're for recreational purposes only. But when she and Christian are thrust into very close quarters while evading two mysterious men who want Christian dead, she can't help but question all her ideas about love and life lived on the edge. Battling the bad guys is hard enough, battling her feelings for Christian just might prove impossible.
Christian comes across as this cultured Englishman. Not a hair out of place, perfect clothes and a British accent. Emily is the office manager for BKI. She is a badass at running other people's lives while she ignores her own. They get on each other's nerves and are constantly sniping at each other until they are forced into close quarters situation when Christian's crazy past catches up with him. The two of them are on the run with 2 other BKI guys and a friend of Emily's. Things get intense quick. There is no room for secrets anymore with 2 bad guys and the press after them they need to get out of England and quick. Christian has been this big question mark for the past few books and what you see is not what you get. Emily has her own secrets and they've shaped her views on relationships. Christian hope he's up to the job of changing her mind. I loved these two sniping at each other and i loved watching them be there for each other. The other guys in this book are Angel, Ace and Rusty who is Emily's friend. There some intense stuff between Ace and Rusty and of course Angel is a huge ginormous mystery. I loved Angel back when he appeared in Boss and Becky's book and i still love him. His story has got to be intense with the hints we've gotten about his past. We know very little about Ace and Rusty is the new guy but they are explosive together. So much going on with the character's in this book but i feel it lacked a little of the action. Poor Christian had to work hard to reach Emily in the end and i think she was over the top a bit. Overall a satisfying book. Look forward to Angel's book and to see what happens with Ace and Rusty.
Find out more about this Julie Ann Walker and this series here
www.julieannwalker.com