Wow so i got to go to my first readers and author's shindig. Can't call it a conference it was way to much fun to be that. My weekend trip started Friday morning about 8:30 AM when i left my small town in Michigan to head out to West Chester, Ohio which is just barely north of Cincinnati. After about 15 minutes in the car i was bored with my own company but about 6 and 1/2 hours later i made it to the Marriott in West Chester in one piece. I was supposed to be meeting a old Army friend. Not that i consider either of us old or anything. lol My friend Sarah was coming in from Tennessee and was 3 hours in driving time behind me. OK so there i stood. Didn't know anyone or anything. Babe in the woods and all that. Couldn't find my way out of paper bag right then. I look around at the people standing all over and think OK now what? I turn around and there sits the lovely Jules Bennett. Who miracles of miracles recognizes me from my twitter picture. A friendly face in the sea of faces. After a few minutes chatting with Jules she's got to go and so as I'm saying goodbye there walking towards me is Jill Shalvis who also recognizes me. I was told by many i look just like my twitter pic. I must look ok because no one ran away screaming. Chatted with Jill for a few minutes( who BTW is one of my fav authors. You should totally read her books). OK so yeah i have 2 more hours i think at this point to kill. I sit on this cute round couch chair and tweet on my iPhone. If your at #RAGT2012 and if that's possible bored I am sitting in front of the doors. Come say hello! Like 2 seconds later the wonderfully funny Dee Carney comes up and says HI! OK this is when i realize this is going to OK. It's going to be fun. As 6 pm is coming up and everyone is registered with their cute name badges and making their way into the ballroom for the pizza party i still have not seen Sarah ( my friend who met me there) and so i am standing there thinking,"um OK there for over 400 people in this ballroom and i don't see anyone i know to sit with, time to go hideout for a bit". Yes i thought that. Then the lovely Virna DePaul walks up and asks me if i need help. Isn't she sweet? She found me a seat at a really great table with some authors and readers and i had some really good conversation waiting for my friend who finally gets there around 6 pm. No girlish screams because #1 the room is crowded with people and we don't want anyone thinking we're nuts and #2 we were starving and needed to eat pronto. It had been 21 years or so since we last saw each other but it was like no time had passed and we chatted like girlfriends who know each other always do.
Anyway cutting to chase as they say. It was a really great weekend. I met tons of authors, readers and fellow bloggers, ate drank and was merry! Yes i did! It was a very comfortable setting once i got into the swing of things and everyone was friendly and nice and fun. Lori Foster and Duffy Brown and their families put a lot into this weekend. They have lots of help from volunteers too. I hope they all think it's well worth the effort but it's the best time I've had in ages. My friend Sarah and i plan to make it a yearly thing for us. I'm going to add some pics below. I didn't take as many as I should've and i have been kicking myself every since but here you go.
Jill Shalvis Book signing. She is as wonderful and witty as you think she is.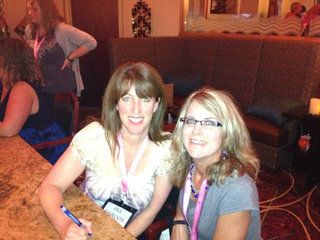 Vicky Dreiling who is amazing to talk to. Lots of fun too!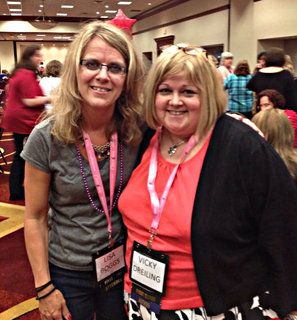 Erin McCarthy who writes some amazing books. With hot guys of course!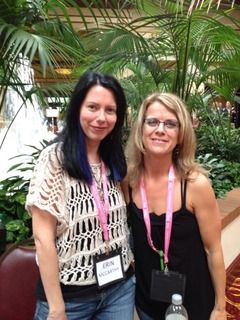 Leah Braemel who loads of fun. Writes really hot books. Sizzling hot!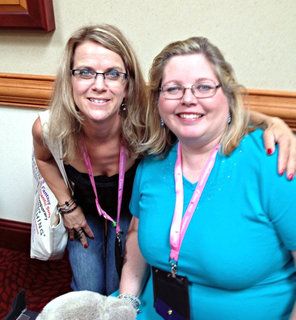 Carly Phillips. I attended her speedchat with Jill Shalvis. The two of them together = trouble and fun!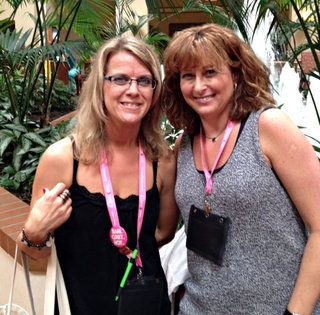 Virna DePaul who is just a all around wonderful lady.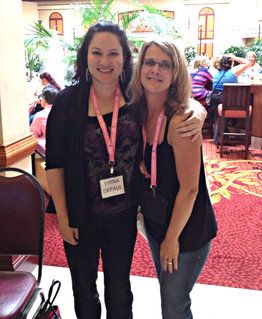 Jules Bennett Aren't we the cutes pair of short people you ever saw?? I know. She's really sweet too.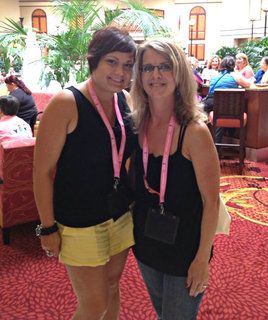 Of course we have to have Lori Foster! She looks amazing doesn't she? She's got to be tired after her long week too. Amazing lady with a great family backing her up.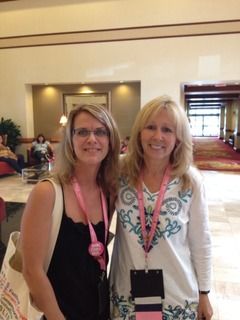 Sue Grimshaw from Random house and Romance at Random.com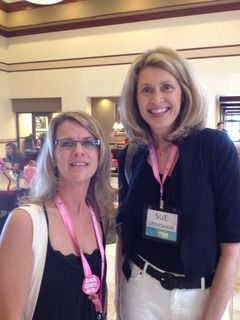 My friend Sarah who i was in the Army with during Desert Storm over 20 years ago now. This was our reunion too. Lots of fun. We hope to repeat it next year.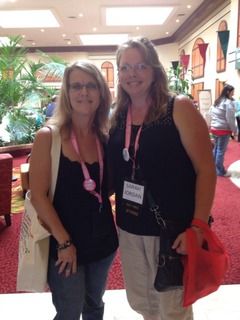 Just because well i just have to here is my pic with my many men at RAGT2012 provided by Hot Damn Designs ( this is a picture of a picture btw) Yes those are handcuffs in my hand and i wanted to take Dare and Spencer home with me but i couldn't figure out how to sneak them out to my car. Least i would've had someone to talk to on the way home. lol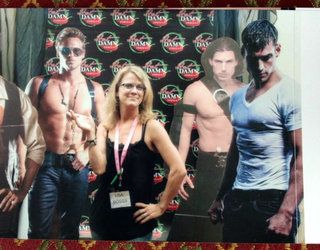 Hope i didn't overload with the pics. I had a great time and i hope some of you will consider going next year. Some links below to find out about these lovely ladies and the RAGT as well.
http://jillshalvis.com/
http://www.deecarney.com/
http://julesbennett.com/
http://virnadepaul.com/
http://www.romanceatrandom.com/
http://lorifoster.com/
http://www.lorifoster.com/community/readergettogether.php
http://vickydreiling.com/
http://www.erinmccarthy.net/
http://leahbraemel.com/
http://www.carlyphillips.com/