Guest review by Sarah Conerty Jordan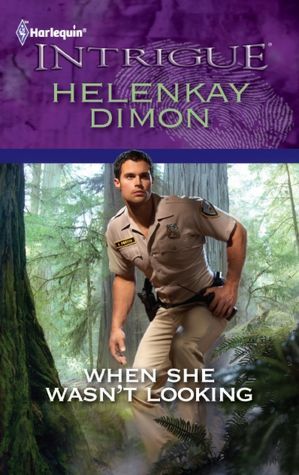 Publisher's Blurb: No woman could deny the appeal of the sexy deputy sheriff Jonas Porter. But to Courtney Allen, Jonas has one major flaw—his badge. Years ago, Courtney's father was wrongfully convicted of a crime and she vowed to never trust a cop again. But when Jonas becomes the only man to believe in her father's innocence, Courtney begins seeing the brooding lawman in a whole new way.
Jonas knows in his gut that the real killer is still out there and determined to finish what he started long ago. To protect Courtney and bring the criminal to justice will require all the skills he can muster. And that means focusing on the job. Not the woman who makes him forget his troublesome past and arouses in him a passion that is anything but professional.
Review: When She Wasn't Looking (Harlequin Intrigue Series #1352) was published in May 2012 and is only $2.99 as a Nookbook!
I really enjoyed this book it was easily a favorite. Courtney is smart, brave, capable and doing her best to clear her father's name and stay alive. Jonas is the ultimate protector - both a lawman and sexy, alpha male. At first suspicious of Courtney, he quickly realizes that her life is in danger as the murder count begins to rise. Keeping her with him allows him to be in the middle of any action while trying to figure out who the killer is, and also allows him to satisfy his increasing possessiveness and attraction for Courtney. The mystery is solid, and as well-built and written as the growing romance. All the characters are believable and it was hard to tell at first who was a bad guy. And watching Jonas slowly realize Courtney was the victim at the same time his respect and attraction was growing made for a great romance. Having the romance blossom under extreme stress and danger creates such a believable scenario - a pressure-cooker romance! Those conditions heighten and enhance the senses and emotions, and I was quickly caught up in the story and didn't want to come out for trivial things like sleep, work and caring for my children - the sure sign of a great book!
5 out of 5 Modokker Book Pick Stars
Find out more about HelenKay Dimon and her books on her website here
www.helenkaydimon.com