Circle Eight Book 2
Kensington Brava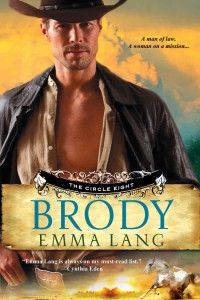 June 26, 2012
Amazon
Barnes & Noble
B-A-M
Chapters
IndieBound
Powell's
A year after their family was brutally torn apart, the Graham siblings begin to put their lives back together at their ranch in East Texas. With their parents gone, their bonds will truly be tested…
Olivia Graham has worked hard to take care of her family at the Circle Eight Ranch. But their family circle was broken when their young brother Benjy disappeared. Liv can't shake the feeling that he must be out there, somewhere.
Brody Armstrong, a handsome but rough-around-the-edges Texas Ranger, has been working on their case for months, and now he has a promising lead.
As Liv follows him across the rugged Texas landscape and into Mexico, she'll begin to find the answers she needs—as Brody finds a passion he didn't know he wanted…
This is book 2 in the Circle 8 series. Eight being the number of siblings in the Graham family. In book one we get a introduction to the family with Matthew the oldest. The Grahams are still mourning the murders of their parents and the disappearance of the baby of the family 5 year old Benjy. In Brody the search is still on for Benjy. Brody takes off for Mexico with Olivia hot on his heels. Olivia is a bit of a hot head. She's stubborn and tough and heartbroken over her missing brother who was quite attached to her. She can't rest until he's found so when she learns Brody is heading into Mexico on a lead and the chance that Benjy is there she wants to go. Brody doesn't want her to but when she saves his life he decides he owes it to her. What follows is a journey of death, mean mean nasty people and discovery for both Brody and Olivia. Olivia's fiance' left her a month after her parents were killed saying he could handle her whining and grief. She can't trust love and Brody's never really experienced love of family like Olivia with her big bunch. They make into Mexico and get some information on all the robberies and the missing people including Benjy and barely escape with their lives. Heading back to the Graham ranch in Texas they have to decide what to do about each other, but is the danger really over??? No... If you've read book one in this series, and you should, you come out of it thinking that Olivia is a cold hearted little bitch. In this book you finally get to see why she is the way she is. Olivia or "Liv" wasn't always so cold and hard. The writing is amazing and it's awesome to see a tough but still feminine heroine. 4 out of 5 Modokker Book Pick stars for Brody by Emma Lang.
Find out more about Emma Lang also known as Beth Williamson on her website here
www.bethwilliamson.com