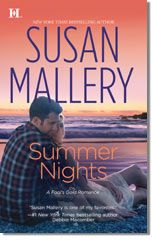 Up for pre-order now. Releases June 26th
Wild hearts cannot be tamed…
Horse whisperer Shane Stryker is done with passion. This time around, he's determined to meet someone who will be content with the quiet life of a rancher's wife. And the fiery, pint-size redhead who dazzles him at the local bar definitely does not fit the bill.
Small-town librarian Annabelle Weiss has always seen herself as more of a sweetheart than a siren, so she can't understand why Shane keeps pushing her away. Shane has formed the totally wrong impression of her but only he can help her with a special event for the next Fool's Gold festival. And maybe while he's at it, she can convince him to teach her a few things about kissing on hot summer nights, too—some lessons, a girl shouldn't learn from reading a book!
This is book 8 in the Fools Gold series. Susan Mallery really knows how to start a series and run with it. In this book Shane Stryker ( Rafe's brother from Summer Days book7) is attracted to Annabelle Weiss the lovely librarian in Fool's Gold. His first time seeing her however she is dancing on the bar at Jo's place and he assumes she is a wild girl who loves attention. Oh boy. Big mistake. In reality Annabelle was stone sober and showing all the ladies in the tavern what the dance of the happy virgin was like. Shane is the local horse guy. He knows how to do just about everything when it comes to horses. Annabelle finds herself at his families ranch to learn how to ride a horse and then hopefully how to ride one while the horse does a dance. She's trying to raise money for a nice four wheel book mobile for the library and is going to ride the horse in a parade. Shane wants to say no but gets caught up in her and just cant do it. Before long they find themselves in each others arms. Both Shane and Annabelle have had bad previous marriages. Annabelle's worked through her issues and is now trying to be happy with herself and find what she needs in a relationship. Shane on the other hand is still fighting the issues. He keeps comparing Annabelle to his ex wife. It's starts to look like maybe he's never going to get a clue that his ex and Annabelle are in no way similar. I think it might have been a bit overkill in this area. I was reminded just a little to much about what a witchy cheat Shane's ex wife was but all the rest really made up for. Loved Shane and Annabelle together. Both have beautiful giving hearts. Eventually you have to hope Shane gets it together before he loses it all. Susan Mallery has a way of weaving a great story while showing you a bit of past ones and future ones. I don't know how she does it but i do enjoy the end product. 4 out of 5 Modokker Book Pick stars for Summer Night by Susan Mallery.
Find out more about Susan Mallery
www.susanmallery.com
and check out the Fool's Gold website as well
www.foolsgoldca.susanmallery.com
Don't forget to check out the private members section for more goodies. All you need to do is sign up with a email.