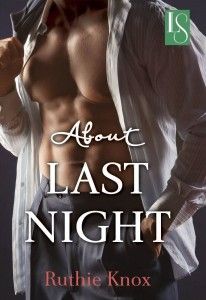 About Last Night, coming from Random House / Loveswept, June 11, 2012!
Sure, opposites attract, but in this sexy, smart eBook original romance from Ruthie Knox, they positively combust! When a buttoned-up banker falls for a bad girl, "about last night" is just the beginning.
Cath Talarico knows a mistake when she makes it, and God knows she's made her share. So many, in fact, that this Chicago girl knows London is her last, best shot at starting over. But bad habits are hard to break, and soon Cath finds herself back where she has vowed never to go . . . in the bed of a man who is all kinds of wrong: too rich, too classy, too uptight for a free-spirited troublemaker like her.
Nev Chamberlain feels trapped and miserable in his family's banking empire. But beneath his pinstripes is an artist and bohemian struggling to break free and lose control. Mary Catherine — even her name turns him on — with her tattoos, her secrets, and her gamine, sex-starved body, unleashes all kinds of fantasies.
When blue blood mixes with bad blood, can a couple that is definitely wrong for each other ever be perfectly right? And with a little luck and a lot of love, can they make last night last a lifetime?
This is my first Ruthie Knox book. I have heard lots of great things about her first book Ride with Me so when the chance to read and review her new one About Last Night i jumped at it. Cath Talarico had a good happy life until at age 14 her dad passed away. He was her world kept her centered and with him gone she was lost. She rebelled against her mother and anything and everything. Got into trouble one way or another.. Over the years she did different things trying to find her place and her happiness but nothing seem to work out for her. After shunning her mom for most those years her mom tried to reach out to her when she was diagnosed with cancer. By the time Cath actually contacted her it was pretty much to late. She decided at that time she was going to be new Cath. She was going to responsible for herself. No more she going to start over and change all her bad habits including men. Nev Chamberlain was always a uptight banker type to Cath whenever she saw him at the train station she always thought he was impeccably dressed and stoic. She nicknames him City based on the way he looked and acted when she saw him. She had a nickname for all the people she regularly saw at the train station. She had a soft spot for this guy. Totally not her type. Little did she know City/Nev had a soft spot for her as well. Then one night after a blind date gone wrong with to much alcohol Nev finds Cath sitting at the train station a little drunk and teary eyed and takes her to his place. He takes care of her and the next morning she finds out that City is so stiff and serious as she thought.
I liked that Cath had this possibly shady but sad and devastated past but she struggled and tried hard to do something about it. She had some devastating things happen to her but she didn't give up when she easily could have. Nev doesn't have the same kind of troubled past but he didn't have the best childhood. Shipped off away from home for school when he came home to visit his mother made him feel inferior and his older brother was mean or extra nice when he wanted something. His only comfort was his dad who he is a lot like. Both artist painters. Nev found himself forced into the family banking business and his mother and brother trying to control him. Slowly Nev starts breaking through Cath's many walls to find out what he can about her. She's afraid of love after he past history with marriage and slow to trust. Nev takes her home to his family in a rouse that backfires on him. Cath fragile heart might be broke for good this time. I liked the story and the sex scenes for me were sometimes wild and passionate and other times endearingly sweet. Great story! I'll be back for more. 4 out of 5 Modokker Book Picks for About Last Night by Ruthie Knox.
Find out more about Ruthie Knox and her books here on her website
www.ruthieknox.com