I was lucky enough recently to interview the fabulous Debra Kayn. I tried to come up with 5 interesting questions for her. Hopefully i did ok. If you have any questions you would like to ask Debra go ahead and do so in the comments at the end of this post and be entered for a ebook version of her latest release Rodeo Rebel! See info on that book below. On to the the questions!
1. What made you decide to become a author? Anyone inspire you?
I've always enjoyed writing, of course. But, it wasn't until I took an online writing course years ago by a published author. She said I had a wonderful writing voice and encouraged me to continue. That planted the little seed of "I wonder if I can do this?" in my head. Now my readers inspire me. We all have off days where we're not feeling the love of writing, and it seems I'll get an email or message from someone who wants to thank me for whatever book they're reading of mine, and I'm inspired to keep going. I cherish those messages from readers.
2. What do you do when your muse won't cooperate with you and you need to write?
I'm very accurate with a rifle. It's the country girl in me. When that doesn't work, I force myself to write. I write every single day, whether I have anything important to write or not. I think this goes back to years ago. I was the girl who wrote in a journal, every single day. I have tons of journals stored in boxes. It's crazy!
3. Do you keep a board with visual ideas for the book or series your working on? A lot of authors are now using pinterest.com for this.
I tried to do a storyboard once. That didn't work out so well. What I've found that helps me the most is OneNote. It's a program that comes with Word. I would be totally lost without it. I can copy/paste, drag pictures to it, and create the biggest character bible you've ever seen. Best of all, I don't have to worry about saving it. It's just there at my fingertips.
Pinterest? That's the devil! Total time suck. I love it! I love to cook, and the recipes alone make that site addictive.
4. You have a very interesting website with a new feature where people ask you for help with their marriage and you give out bits of advice. How did that come about?
Ah, my Dear Deb, Spice up my marriage post I do every Friday. That's so much fun for me to do. It started years ago. Not the actual column, but the idea. I'm one of those people who go to the store and perfect strangers come up and talk to me. Before I know it, I've heard all about their problems. Because of this happening all the time, I always dreamed of having a job in some major paper, writing and advice column. When I confessed about my secret on my website, I started receiving emails from people asking me for advice. A year later, I decided to start the Friday Dear Deb post. In one month, I've received almost 80 emails asking for advice. Of course, it's all in fun and for entertainment purposes only, but there's good advice for every one. You can check out the past posts here.
http://www.debrakayn.com/p/dear-deb-spice-up-my-marriage.html
5. You have one more McDougal sister then what? What's in the works for you in the future?
Yep. The last book is Bisette's story, and then I'll be done with the Sisters of McDougal Ranch series. In November, I'll have the beginning of a new series released. It's about professional athletes and the women who put up with their big, um, egos. I have the next four book proposals for that series submitted to my editor right now, so cross your fingers!
Thank you so much for having me at your blog today, Lisa. You know I always love coming to visit!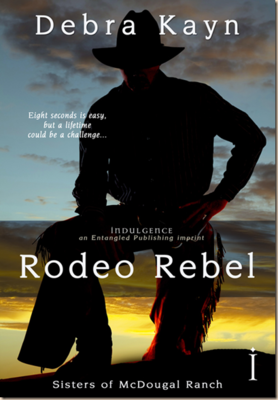 Rodeo Rebel is Debra Kayn's latest release
Available on
Amazon
and
Barnes &Noble
Blurb
When widower and land baron Cole Reardon acquired the Turner Grain Corporation, he didn't know the company sponsored a bull rider. He refuses to support thrill-seekers dumb enough to get on the back of a crazed animal. He's not willing to risk his fortune and livelihood when he has his daughter's well-being to consider. Not even when the bull rider is the sexiest woman he's ever seen.
Bull rider Florentine McDougal plans to turn pro after the season championship, fulfilling her lifelong dream of succeeding in a man's world. That is, until Cole Reardon shows up and threatens to break his sponsorship contract with her. Now everything she's worked for is less than eight seconds away from being destroyed.
Cole distracts Florentine with his sexy mouth and unreasonable demands, and he's not going to compromise his integrity. But she's not going to let him loose until she has pro status. And neither will come away from this dust-up unscathed.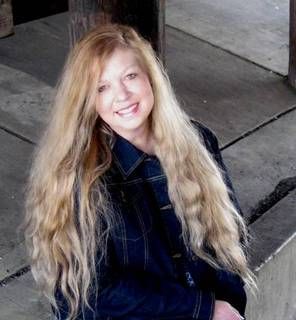 Multi-published Romance Author, Debra Kayn, lives with her family in the beautiful coastal mountains of Oregon on a hobby farm. During the summer, she enjoys riding motorcycles, gardening, playing tennis, and fishing. During the winter, you'll find her outside playing in the snow. A cold weather nut, she lives for the days she's snowbound and fighting with the woodstove to keep the house warm when the power goes out. A huge animal lover, she always has a dog under her desk when she writes and chickens standing at the front door looking for a treat. She's famous in her family for teaching a 270 lb pig named Harley to jog with her every morning.
Her love of family ties and laughter makes her a natural to write heartwarming contemporary stories to the delight of her readers. As someone who met her husband on a blind date when she was nineteen years old, she's a believer of love at first sight and happily ever after.
Visit Debra's website
Follow Debra on Twitter
Like Debra on Facebook
Friend Debra on Facebook
Debra is a really sweet and funny lady and I am so excited to offer up a free ebook copy on behalf of Debra to one lucky commenter from today's post. Please if you have a question for Debra or a comment leave it for her with your email address ( example* Your name AT Yahoo dot com) so we can contact you if you win. If you read my review of Rodeo Rebel last week you know i loved it. Contest ends Friday June 29th at midnight.
Thank you to Debra for stopping by and giving us a glimpse into you and your mad skills!