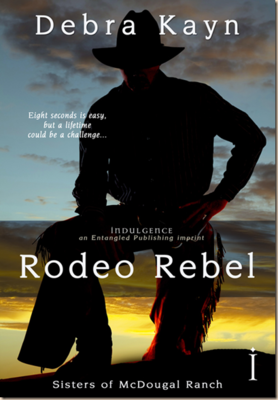 Available now!
When widower and land baron Cole Reardon acquired the Turner Grain Corporation, he didn't know the company sponsored a bull rider. He refuses to support thrill-seekers dumb enough to get on the back of a crazed animal. He's not willing to risk his fortune and livelihood when he has his daughter's well-being to consider. Not even when the bull rider is the sexiest woman he's ever seen.
Bull rider Florentine McDougal plans to turn pro after the season championship, fulfilling her lifelong dream of succeeding in a man's world. That is, until Cole Reardon shows up and threatens to break his sponsorship contract with her. Now everything she's worked for is less than eight seconds away from being destroyed.
Cole distracts Florentine with his sexy mouth and unreasonable demands, and he's not going to compromise his integrity. But she's not going to let him loose until she has pro status. And neither will come away from this dust-up unscathed.
This is the 4th book in the Sisters of McDougal ranch series. I've been following the series since book one and enjoying them all. You read a lot of book series where the guys are who the series is about, but not many that feature the women. It's fun to see this series then about a group of sisters and their ranch and the men who come into their lives. If you've followed along with the series you know that Florentine is the bull rider. She's been working hard for years to get into the PBRA and be a professional bull rider. It's a goal she set at the age of 17 when she struck out on her own. Finally she is so very close. Into her life walks Cole Reardon. He just bought the grainery that has been sponsoring her. He wants out of the contract. He can't condone what he thinks is reckless behavior. Thing is she does something to him and he's torn about what he feels about her. He's also got a little girl, Sarah, who lost her mama when her reckless behavior got her killed when she was a baby. He's got to protect her and he can't promote something as crazy reckless as bull riding. When Florentine injures herself getting thrown off a bull though Cole just can't seem to leave her on her own no matter how much she protests. He and his daughter end up staying at McDougal Ranch for Margot's wedding and their annual fireworks. Cole struggles with his feelings for Florentine and his need to protect his daughter and his heart. What a exciting struggle it is too. This i think might be my favorite of the series so far. I wonder if I have said that before?? lol There's something about Cole and Florentine's chemistry. He's a sweetheart of man but his heart was crushed when his first wife was killed and he was afraid to death of getting hurt again or having his daughter hurt. Florentine was a risk he wasn't sure he wanted to take even if his heart wanted her. Loved it and can't wait to see what the happens with the sisters next! 5 out of 5 Modokker Book pick stars for Rodeo Rebel by Debra Kayn.
This book is available from Amazon and Barnes and Noble and is lendable from both. Find out more about Debra Kayn and this series and read excerpts for all 4 books on her website here
www.debrakayn.com
Amazon
www.amazon.com/Rodeo-Rebel
Barnes and Noble
www.barnesandnoble.com/w/rodeo-rebel