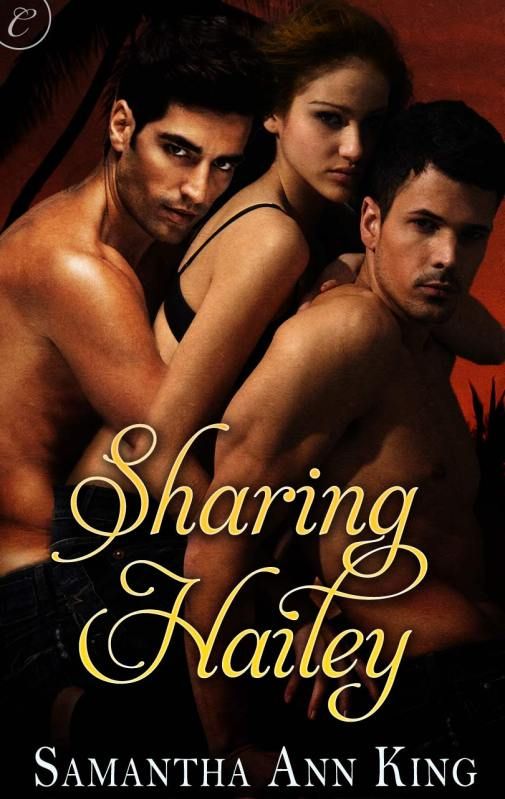 Available for pre-order out July 9th everywhere
Hailey Anderson's deep, dark secret? She's been madly in lust with her overprotective brother's two best friends for years. Gorgeous woodworking artist Mark Allen and sexy doctor Tony Adamo have no idea they star in her fantasies every night.
After a nasty breakup with her abusive boyfriend, Hailey's looking for a little distance. Headed for a two-week Hawaiian vacation with her brother and his hot friends, Hailey can't wait to feast her eyes on Mark's and Tony's rock-hard, ocean-slick bodies. Even if she can't touch.
But instead of treating her like their little sister, Mark and Tony have a surprising proposition: a monogamous ménage à trois. The three of them—and no one else. Both men want Hailey and have agreed to share her. The red-hot reality is even better than the forbidden fantasy. Until Hailey's ex threatens their newfound happiness…
This is my first Samantha Ann King book. I was looking around Netgalley and this cover caught my eye. Love covers! Anyway so i liked the cover so i had to read the blurb sounded interesting and thought i had to give it a try. New authors are always a risk because i hate to not like a book. Not like it enough to write a review of it anyway so i was hoping what i saw at that point meant good book in the end. Hailey Anderson liked her brothers two best friends. Maybe like isn't a strong enough word. She lusted after them both and probably was in love with them. She didn't think they felt the same way plus they were her brothers friends and also how could she choose between the two so she ignored her feelings best she could. Tried to have a life have boyfriends and find love. When her current boyfriend started roughing her up she broke it off with him. She was scared but thought he'd let her go since he never seemed to think she was doing anything right anyway. Her brother and his wife and his two best friends and her were all going on a vacation to Hawaii. She could regroup there and decide what to do with her life then. To bad Mark and Tony had other ideas. They knew what was going on. That she was attracted to them both. They also thought she would have to decide between the two of them and didn't want to push her or her her. Then they decided they could share her and become a threesome instead of a twosome. Now they just had to explain it to her. lol Unfortunately her ex wasn't going to give up on her so easily. He started stalking her and threatening her. In Hawaii Tony and Mark started their threesome and it was all knew for them all but now everything was threatened. I like erotica but erotica with a good story is so much fun to read. I liked the story i liked the characters. I enjoyed reading it for the most part. Only part that bugged me is they use of the word Y'all. To me this word got thrown around a bit random. It didn't fit the characters. They didn't have any other southern accents or words so it didn't mesh and it bugged me every time a character said it. I think if the story would've opened with a bit more back story with Hailey's boyfriend i would've liked that as well. I still enjoyed the whole thing immensely and would read this author again. Definitely a win for me! Good choice! 4 out of 5 Modokker Book Pick starts for Sharing Hailey by Samantha Ann King.
Find out more about this book and the author here on her website
www.samanthaannking.com