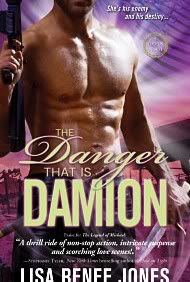 General Powell from book 1 has returned and he's developed a way to create and control a new generation of female GTECHs. He plans to use these women to bring both, the Renegades and the Zodius soldiers, back under his command. The world will be his. Now, Damion, a Renegade, who readers met in book two, will be pitted against one of those soldiers, a woman destined to be both his Lifebond and his enemy. Damion will become her only hope of salvation and their trust in each other the only chance they have to save the world from a madman.
This is the third book in the Zodious series by Lisa Renee Jones. In this one Damion Browne finds his lifebond in Lara Martin. Problem is all Renegades are Lara's enemies or so she is brainwashed to think. Damion captures/saves her when her assassination attempt on a Russian nuclear scientist. She's supposed to shoot him but can't. She keeps getting flashes of what she thinks is her family being murdered in from of her and the Russian has little kids. Damion comes up on her and she seems to be lost in herself. Sabrina who we met in the last book as the ICE drug dealer is back this time the leader of a group of female GTECH's called Serenity. These females are converted to GTECH and then brainwashed and that's what happened to Lara. Sabrina is the only one not brainwashed and their leader. Something is wrong with new GTECH female soldiers from Serenity. Lara keeps having blackouts and odd dreams and hallucinations. Damion has to try and help her figure it all out while keeping her from getting killed. This series has just sucked me in. Every book so far just grabs me. I think it's alpha males and the fact that the women they get paired up with are strong and sexy and smart and can kick ass all on their own. At the same time both the male and female leads can be vulnerable too. Plenty of action and suspense too to go with it. I find myself not only interested in the lead character of the book but all the secondaries too and watching for signs as to whose story might be next and can i glean any info as to who their lifebond might be. It's lots of fun. This is another great read by author Lisa Renee Jones. I've tried a few of the different genre's she writes and have not been disappointed yet. 4 out of 5 Modokker Book Pick stars. Bring on the next Zodious book!!
Read more about Lisa Renee Jones and the Zodious series as well as her other books by checking out her website here.
www.lisareneejones.com
There is even two excerpts for this book there.
Here's my favorite quote from the Damion's book.
Chale whistled. "I'm straight as a steel pipe, and Michael gets me hot when does shit like that.""That makes two of us right now," Damion said, drawing two glocks from his double-shoulder holster, and heading into the gaping hole Michael had created and entered. He was going to get Lara - and he was bringing her home.