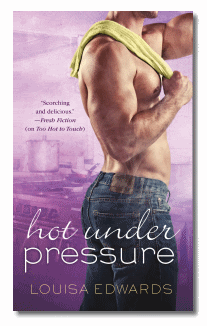 Loaded with the hottest dishes and sexiest chefs, the Rising Star Chef competition is about to boil over for one pair of all-star cooks who can't stand the heat—of working so close together...
SHE'S THE ONE HE LEFT BEHIND
Henry Beck thought he'd already faced the toughest kitchen challenge of his life. After all, what could top sweating it out as a Navy cook on a submarine? But when he learns his competition for the title of Rising Star Chef is the sweet hippie girl he married...and left...ten years ago, the heat is on.
HE'S THE ONE SHE CAN'T FORGET
Now Beck and Skye Gladwell are going head to head in the finals...and sparking up old flames every time they touch. But Skye wants more than a win over the man who abandoned her when she needed him most—she wants a divorce! Then her sexy almost-ex makes a deliciously dangerous proposition. He'll give in to her demands, but if his team wins the RSC, he has a demand of his own...one last taste of the only woman he ever loved.
This is the third book in the Rising Star Chef series by Louisa Edwards. If you've never read a book where cooking of any kind was the back drop then i encourage you to start with this one. It works well as a stand alone but if you like to read in series order that works too. The first two in this series are Too Hot to Touch and Some Like it Hot then followed by Hot Under Pressure. In book one you get a intro into all the characters. That's where we all get to meet Beck as he's known by most. Henry Beck as he is know by the wife he hasn't seen in ten years. Skye Gladwell is the woman that won Beck's heart. Fear and a bad decision made him lose her 10 years ago. He meets his match in her at the last step in the Rising Star Chef competition. She wants a divorce and he wants another chance. He makes a bet with her. If her team wins she gets her divorce. If his team wins she still gets her divorce but he gets one more night with her. Beck is always a careful man. The Navy taught him all about discipline and how to hold himself in check. He had a rough childhood losing both of his loving parents at age 8 to a terrible tragedy and then being stuck in foster care til he was 18. Then came Skye. Skye Gladwell had dreams they just weren't the dreams her parents wanted her to have. She never felt good enough for them. Then she met Beck and he won her heart and soul. Then tragically it all fell apart and Beck abandoned Skye. Ten years later they meet again at the Rise Star Chef competition and the heat as they say was on. This book was a journey for Beck and Skye. Their path back to love and happiness. Beck had to learn how to open up and communicate his feelings. A tough gig for a hardened orphan and Navy man. If he wanted his second chance with Skye he had to find a way. The ending wraps up the competition with some unexpected but exiting twists and some moments that will make you say awe.... Have the kleenex ready. Great way to end the series. Be sure if you read this book to read Becks poem at the end and to check out the recipies at the back of the book. 5 out of 5 Modokker Book Pick Stars. Hot Under Pressure really got under my skin and drew me into the story.
Find out more about the Rising Star Chef series and author Louisa Edwards on her website here
www.louisaedwards.com