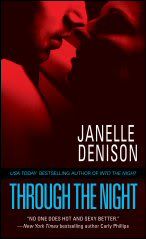 THROUGH THE NIGHT
LADY LUCK
As the Executive Casino Hostess for The Onyx in Las Vegas, Valerie Downing is always on the lookout for the night's biggest winners. When she spots a man—one of the sexiest she's ever laid eyes on—generating huge excitement at the craps table, she knows she's in luck. Her goal: To make sure the high rollers stay at her hotel, and that any further gambling is invested right back into the casino. His: To enjoy some other "perks" that Valerie might have to offer.
GAMBLING MAN
Turns out Chase Pierson is already a VIP guest who happens to be working with Valerie's boss on a top-secret mission for the Reliance Group—one for which she too has been recruited. But Valerie, bold and gorgeous as she is, is first and foremost a professional. No fraternizing with Onyx clientele is her motto…and this hard-bodied, infuriatingly charming client is no exception. Even if Chase knows that the harder the hunt, the hotter the surrender.
This is book 3 in Janelle Denison exciting Reliance Group series. In this one Valerie who is the hostess for Onyx Casino in Las Vegas as well as a Reliance Group member. She gets paired with Chase Pierson who is treasure hunter. Things heat up quick since Valerie is clairvoyant and Chase has psychic abilities too He can touch a object and literally see it's history. Valerie can touch people or feel things in places. Between the two of them they hope to find a missing piece of a intricate and expensive cane once owned by Al Capone. There is another great treasure Chase is after once he finds the missing piece and assembles the cane worth millions. Problem is both Valerie and Chase have troubled family pasts to overcome. Sparks literally fly when they touch each other but someone doesn't want them together at all. I love love loved Chase. The love scenes were divine and the connection between Chase and Valerie was electric, literally! I like when you can't figure out who the bad guy is but sometimes it's pretty fun when you think you know and you're sitting there saying NO NO NO don't you get it he's the bad guy. While that is fun for me this book wasn't about the bad guy but the love story. Chase has all this patience with Valerie and even though he has his own issues he's there for her and believes in her. This is easily my favorite of all the books in this series so far. Can't wait for the next one! 4 out of 5 Modokker Book Pick Stars for Janelle Denison's Through the Night.
Read more about this book and this series on Janelle Denison's website. There is even a excerpt for this book there.
www.janelledenison.com
Releases March 27th
pre order from Amazon right now
www.amazon.com/Through-Night