This review for ages 18 and over only please.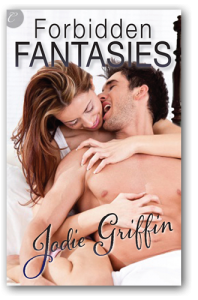 After fifteen years of marriage, Jessica Meyers's sex life is, well, a little predictable. Her handsome husband turns her on, but missionary style once or twice a week? It just can't compare to the hot new world she discovers in the pages of erotic romances. Her fantasies fuel the fire of her desire, adding a new spark to her and Alex's lovemaking. But Jess is afraid to tell her husband what she really wants in bed–and her secrets start coming between them.
State trooper Alex Meyers is a master at uncovering the truth–except when it comes to his sweet, shy wife. She's clearly keeping something from him. An affair? She wants out? When he finally confronts Jess, he's shocked to learn she wants to turn her forbidden fantasies into nightly realities. But when he takes her to a unique B and B–Bondage and Breakfast–catering to couples and multiples, Alex is about to find out just how far he'll go.
This is the debut book of brand new author Jodie Griffin. I found Jodie on twitter, my social media website of choice these days. I decided to check out her website and her back cover blurb for this book and decided i wanted to read her book. First of all you don't often read erotica type books where the couple are married. That's the first things that intrigued me and then there was the whole discussion of the erotica books the heroine is reading that gives her idea about her changing sex life. This is a short read but fabulously written. In a lot of ways i could see it happening in real life. There some really emotional stuff but you can feel the love between Alex and Jessica. Once Alex finds out what's really going on with his wife he makes her fantasies come true in a realistic way. There are these super hot sex scenes made hotter because it's a married couple ( by 15 years) and there's a bond there but also because they talk it out as they go. It's great!! 5 out of 5 Modokker Book stars for Forbidden Fantasies by Jodie Griffin. I didn't want it to end and read it one quick sitting. Read more on Jodie Griffin's website here
www.jodiegriffin.com