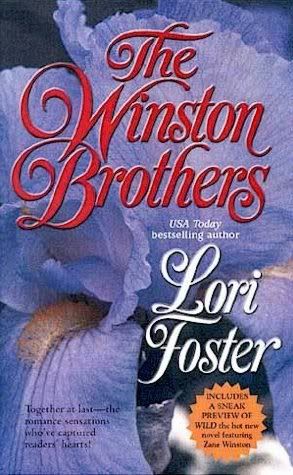 The Winston Brothers: Tangled Sheets/Tangled Dreams/Tangled Images
All four Winston brothers are scorchingly handsome, sensually passionate- and stubbornly proud. Left alone in the world after their parents' deaths, they learned to depend on each other-and to cherish the bond that holds them together. Now, with their disarming charm and sexy smiles, they will inspire readers' wildest, most sensuous fantasies- and will surely become the men of their dreams.
This book has 3 novella's for three of the Winston Brothers Mack, Colee and Chase with a sneak peak at Zane's story at the end. This is a older book originally released in 2001 i believe. I'm always trying to catch up on the back lists of authors i really enjoy. I walked up to my bookshelf and snatched this one off the shelf
the other day and began to read. It was a quick one afternoon of reading.
First up is Tangled sheets which is Cole Winston's story. Cole is the oldest and took over raising his brothers when he parents were killed. He bought a bar to earn a income and all the brothers work there. Sophie is the boutique owner up the street. Looking and acting prim and proper she comes to the bar every afternoon for hot chocolate and to unwind. Secretly she is watching Cole and wanting him. She thinks he's out of her league though and isn't sure how to go after him. Little does she know Cole wants her too. The bar is hosting a Valentine's day photo contest. Winner would get a night on the town with Cole. Just what Sophie wants. She comes up with a crazy scheme of pretending she has a twin sister who is much wilder than her. Someone Cole would want. She justs wants one night with Cole because she doesn't think she can get anymore than that. If she only knew what Cole thought of her. It gets fun seeing how it all plays out. The brothers are great. Sophie and her friend are pretty cool. All in all a fun little story.
Next up is Tangles Dreams which is Chase Winston's story. This one is set at Halloween time and he suddenly finds himself attracted to Allison Barrow. His sister in law Sophie ( from Tangles Sheets) best friend. This one has a bit of a paranormal twist. There are ghosts in Allison's house. She can talk to them and see them if they choose. They are a friendly couple too. Chase finds suddenly though that he can hear Allison's thoughts and that her thoughts are all about him. Doesn't bother him because his thoughts are about her too. It gets interesting with the ghosts the other boyfriend and some jewels. Oh and a gun. Little off the wall but a fun read none the less.
Last in this book is Tangles Images Mack's story the baby of the family. Mack is a school teacher or he is trying to be one. He is doing his student teaching and having a hard time with the school's administrator. While he waits to see if he gets approved for teaching he finds himself doing a favor for his 2 sister in laws, Sophie and Allison.( From the previous two novella's) They want him to model some men's lingerie for a photographer so they can make a catalog for their boutique. He find himself stuck doing it and gets a surprise when the photographer in question turns out to be old classmate from college that he had the hots for. Jessica Wells is divorced with a 13 year old daughter. She gave up her college chance when she got pregnant and married years ago.She ignored him at school because he was so carefree and she had to struggle to get through. Women through themselves at him and then there was the fact that she was several years older than him. Mack doesn't let her off the hook though. He tempts her with all the provocative little scraps of underthings he has to wear for the photo shoot and she can't resist eventually. It's fun to watch Mack try to get Jessica to see age is only a number. Great little fun read.
If your looking for a relaxing fun and a bit crazy off the wall read. This is is. Plus 4 HOT Winston brothers. What's not to like? I sat and read this in one afternoon. No hard thinking just a lot of reading enjoyment. 4 out of 5 Modokker Book Pick stars for The Winston Brothers. Now i have to go find and read Zane's book. Brother number 4! Find out more about Lori Foster and her other books on her website here.
www.lorifoster.com