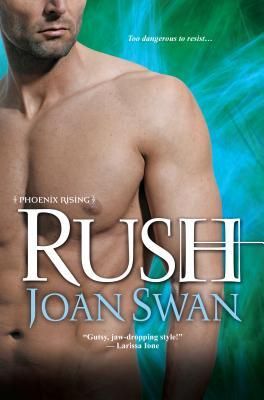 Available now!
Jessica Fury, Washington lobbyist, has money, connections, and her own firm. But five years ago she had something better: happiness. Her firefighter husband, Quaid, was handsome, courageous, and crazy about her. Then one day he walked into a chemical inferno—and never walked out. Jessica has been through hell to get back on her feet. And then a rumor surfaces that could bring a miracle or shatter her world – again.
Q has been a prisoner forever. He's honed his mind and body into weapons. He's developed abilities no one else understands. But he's still at the mercy of a cabal of ruthless men, who blank his memory, test him like a lab rat, and tell him lies. Although his past has been erased and his future looks grim, instinct tells him he has a woman to live for. What his mind can't remember, his body can't forget…
The heat is on.
This is a very complicated but thoroughly enjoyable book. I have no idea how Joan Swan keeps track of everything but she does and passes it on to readers effortlessly. Q is introduced in the last book in this series. We're all left wondering if Q isn't Quaid long thought dead from the accident that effected the whole response team. We're left wondering if it is him for sure for a good portion of the book but in our hearts we know it is. Of all the team members i think Jess and Quaid suffered the most after their accidents. They were newly married and talking babies when everything went to hell. It was believe Quaid died in the hospital and Jess pulled away from everything and fell into a deep hole of despair and did things she's not proud of. She feels she's on the edge of mental madness when a couple of her team members come to get her with the news they think Quaid is alive. Then embark on a rescue mission to get Quaid out of the place he's being held but Jess is not as convinced as everyone else til she get a close look at him and spends time with him. Things are never easy when you have been through so much and a lot of time has passed. Quaid can't really remember much of anything from his past life and struggles with finding his way. Jess and Quaid have a hard road back to each other. This book is action packed with plenty of sexy scenes mixed in. It will definitely tug at your heart strings too. If you like paranormal romantic suspense here's a great series to get into. 5 out of 5 stars for Rush by Joan Swan.
Find out more about this series and Joan Swan here
www.joanswan.com