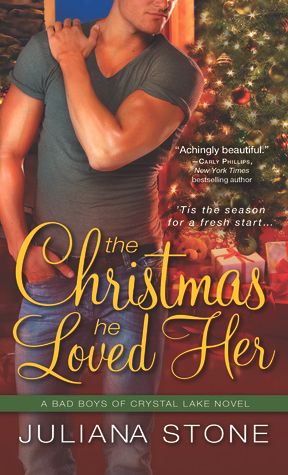 Available now!
All he wants this Christmas is her.
In the small town of Crystal Lake, Christmas is a time for sledding, hot chocolate, and cozying up to the fire with those you love. For Jake Edwards, it's also time to come home and face his past. He thought there would never be anything harder than losing his brother. Turns out there is: falling in love with his brother's widow, Raine.
Ever since they were little, Jesse was the Edwards brother who was always there for her, and Jake was the one who knew just how to push her buttons. Raine can't imagine a life without them, which is why it was doubly decimating when Jake left town after his brother's sudden death. Now he's back and she doesn't know whether to be mad or thrilled. Maybe both. Maybe it will be the perfect chance for both of them to finally find happiness again.
This is a Christmas themed book but the story is way deeper than anything about Christmas. This series is about 4 childhood friends and one girl, Raine who always tagged a long. In book one we find out one has been killed in action in the military in Afghanistan. Jesse and Jake were fraternal twin brothers and
not identical in looks or mannerisms. They
were in the same unit when Jesse is killed so Jake was there when it happened. Jake and Jesse both loved Raine but she married Jesse and Jake stepped back. When home on leave Jake and Raine consoled each other with their bodies and feeling guilty about that and a lot of other things Jake left. Now many months later he's back permanently and he's still a mess and so is Raine. Deeply depressed over losing Jesse and what she feels is a betrayal by Jake for staying away and not being there for her she's sullen and losing weight and not caring about much. Top it off he brings home a beautiful woman with him he claims is only a friend. This is a huge emotional journey for most of the characters. Dealing with a death like this is hard on it's own without all the complications thrown in with Jake and Raine's relationship. How exactly Jesse died is partly a mystery until Jake finally tells his parents and Raine what happened. Loaded down with guilt it takes a lot of Jake and Raine to find their way to each other and let Jesse go. As a veteran myself i thought i would have a hard time reading this book. I knew before i even started it would be a emotional book. It's a journey worth taking though. Life goes on even after such a heart wrenching tragedy and it makes you think of what military families go through when a loved one is killed while serving their country. 4 out of 5 stars for The Christmas he Loved her by Juliana Stone.
Find out more about this series and Juliana Stone on her website here
www.julianastone.com