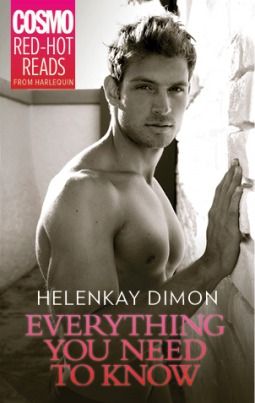 Available today!
From the award winning author of romance and romantic suspense, HelenKay Dimon comes a sizzling new story from Cosmo Red-Hot Reads from Harlequin.
Welcome to Need to Know—Because a Woman Can't Be Too Informed
Dating in D.C. is like navigating an apocalyptic wasteland populated by men in expensive suits with zero mating potential. Need to Know provides all the information a savvy single woman like you needs to avoid dating disasters.
By night, Jordan McAdam is the proprietor of a popular website that rates D.C.'s hottest bachelors—everything from how quick they are email you back to their skills in the sack. She's been burned once too often to accept any man at face value. By day, her job as an office temp puts her in the perfect position to do a little fact checking on her rich and powerful subjects. When her latest assignment brings her face to face with the sexy but mysterious Forest Redder, Jordan decides to do a little "hands on" research of her own. To Jordan, he seems like the perfect man – but she knows there is no such thing. Moreover, there's a big problem: Forest knows Jordan's the woman behind the scandalous site—and Jordan knows he knows. Will he expose her secret—or find his own posted on Need to Know?
Jordan McAdam has had nothing but terrible dating luck. She decided to start a website where woman can be warned if their is date is a worm or a winner. Her job as a office temp helps her check the prospective dates out but then she runs into Forest Redder on one of her temp jobs and he's taken with her. He's totally the kind of man she wants to avoid. Forest is a force to be reckoned with though and he finds out where she works and requests her and makes it a" no way to get out it" of situation. Problem number one is he's not what she thought. She finds herself falling for him. Problem number 2 is the website. It's causing problems for both of them. A guy one of her previous jobs goes on the attack of both Forrest and her website. Should she confide in him and tell him she owns the website or hope he figures a way out of the problem for both of them without telling him. Can she trust him enough? This is the dilemma she faces. Trust or not?
The cover for this book is enough to get a woman to buy it. It's the story inside that will get that woman to read and enjoy it. HelenKay knows how to write a sizzling romance. I discovered her a little over a year ago and have enjoyed pretty much everything i have read of hers since. This book is no different. It's a fast sexy read that sizzles right off the pages or in my case my Kindle Fire. If you need a evening with a fun, sexy read this one will definitely fit the bill!! 4 out of 5 stars for Everything you Need to Know by HelenKayDimon.
Find out more about this book and HelenKay Dimon on her website here
www.helenkaydimon.com