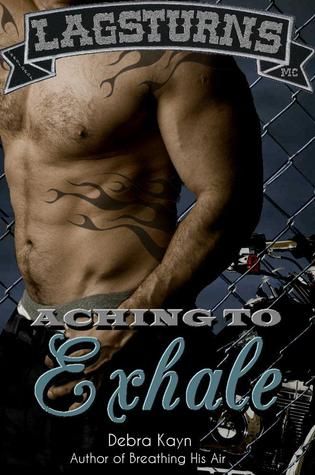 Available now!
Raul Sanchez, president of the Lagsturns Motorcycle Club, proved himself over the span of eight years to lead the outlaw bikers. No longer able to distinguish right from wrong, the undercover FBI agent is after blood when he finds out the Mexican Mafia took his woman. When he finds out his other half is still alive, he sheds the badge, throws himself into chaos, and seeks biker justice. Because any man who touches his woman is going to die.
Swinging on a pole in a seedy lounge in Palm Springs, Crystal Rose works to keep herself one-step away from trouble. With a prior rap sheet of pissing off a rival MC president, shacking up with a crazed out drug addict who used her for collateral against the Mafia, she's one day away from disaster. All she wants is the one man who rocks her world. But she can't go back, because loving Raul could get him killed.
This is book 2 in Debra Kayn's bikers series. This time we're in Langsturns MC territory with Raul Sanchez. In that first book Crystal comes across as a mean chick that causes problems when she is sent by Raul to sleep with the president of a Rival motorcycle club. At the end she's kicked out and set on a bus out of town but she ends up with a druggy guy and then disappears. Most people would think good riddance but you know how these things go. You don't really know everything you think you do. This story is enlightening in you find out who Raul and Crystal really are. There are lots of secrets to overcome and trust to earn. There is so much more to both of them than you could every imagine based on the previous book. Crystal's past has haunted her for the past 12 years. No matter what she does or where she goes she can't catch a break. She thought she had finally found a place to belong with Raul and then he coldly sent her away. Little did she know he was trying to protect her. Then she fell in with the Mexican mafia by association with the druggy guy she left with. Desperate for a place to stay she went with him and then got mixed up in some nasty business. After getting away from that and hiding out she's working as a dancer in a seedy club when Raul comes to find her and drags her back to the Langsturns club. This is when we start finding out what's really been going on and more about Raul and Crystal pasts. It's not what you think. Debra Kayn has to do some serious work to redeem Crystal in the readers eyes ad she definitely did that for me. This is fast paced, action packed twists and turns and sizzling sex scenes. If you are into hot motorcycle rising guys. Raul definitely fits the bill and even Rain from book one is back in this one. At just over 200 pages you can read this book in a evening curled up in your favorite chair. Just like i did! 5 out of 5 stars for Aching to Exhale by Debra Kayn.
Find out more and read a excerpt for this book on Debra Kayn's website here
www.debrakayn.com