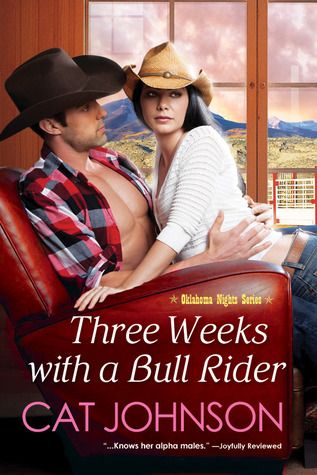 Available March 25th
One Broken Man…
Cowboy Jace Mills has suffered fewer injuries from bucking bulls than he has from his ex-girlfriend. Following his best friend Tucker's advice, Jace is convinced it's time to move on. But with his ex's tight rein on him, easier said than done.
One Broken Heart…
Tara Jenkins learned a lot in her sports medicine courses, but not how to fix her broken heart. So when her brother Tucker suggests using her skills on the rodeo, it gives her the perfect opportunity to ride off into the sunset—or at least run away.
Three Weeks Together…
Only problem is, Jace and Tara have had a hate-hate relationship for over a decade, putting up with each other for Tucker's sake. With their long history as frenemies, they know sparks will fly, they just never expect them to flare into scorching passion.
If you have been reading the Oklahoma Nights series by Cat Johnson then you are probably familiar with Jace Mills and Tara Jenkins. Both have been seen in previous books so some of their background is known. If not i think you can still figure out what's been going on with them enough in past books to follow along. Jace has a crazy ex girlfriend he can't seem to stay away from. She's a ex that still controls him in a lot of ways. He's finally sick of it and decides to go on the rodeo circuit for a while and get away from it all. At the same time Tara is trying to put some things behind her as well and is also going on the circuit as a sports medicine intern so she can get her degree. Problem is her used car she just bought up and died so she is stuck until Jace offers to take her with him and help her with expenses by sharing a ride and a room. This is all interesting because up until now they have been like oil and water. They don't work well together. In the last book Tara comes across as childish but this is her growing up book. She's finally ready to take control of her life and work on who she wants to be. Of course nothing comes easy there are bumps along the way. Jace is older at 30 and has to look back at the mistakes he's made with the crazy ex girlfriend he's dodging whose not quite as ex and she should be. He has regrets but is also trying to figure where to go from here and maybe doing some growing up of his own. The more time Jace and Tara spend together the more the hate/hate relationship changes when they start to understand each other. There is so much about this i liked but a couple things that bothered me too. I would've liked to see the ending drawn out a little longer and feel more complete. It felt a little like it was just suddenly the end. I wanted something more I guess. The other involved the sex scenes that were extremely hot don't get me wrong on that but felt a bit out of order for lack of better phrasing without giving things away. Overall though i enjoyed the book and loved Jace so much. Tara grew by leaps and bounds from my previous perceptions. I am hoping to get more of a look at them in the next book and see where they go. Love those cowboys!
Find out more about Cat Johnson on her website here
www.catjohnson.net