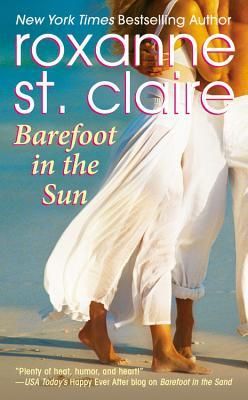 Available now!
When running is all you've ever known . . .
Caught between fight and flight, Zoe Tamarin has always picked flight. Since she was rescued from a nightmare childhood by her great-aunt Pasha, they've been on the move, never staying in one place long enough to risk exposing their precarious past. But now that they've reached the sun-baked shores of Barefoot Bay, Zoe may have to stay and fight--for her aunt's life . . . and for a love she ran from years before.
Sometimes the bravest act of all is to stand still.
Oliver Bradbury came to Florida to start over, as both a doctor and a father to his eight-year-old son. He never expected life to hand him a second chance with the woman he lost years ago--but one look at Zoe Tamarin and he knows he'll do whatever it takes to prove that this time, he can be the man she needs. But when demands of family and friendship threaten to shatter their rekindled passion, Oliver must heal Zoe's lifelong wounds with more than hot kisses . . . but will that be enough to keep her from flying off with his heart?
I really miss Roxanne St Claire's romantic suspense novels. That's where i fell in love with this author. That's where i fell in love with romantic suspense. I was a little upset when she moved on to contemporary romance. Wasn't sure i could love those books like i did her romantic suspense. Then the first Barefoot Bay book came out. I had to read it of course. Curiosity and resignation whirled inside my head and heart. I felt a loyalty to Rocki and her romantic suspense but also hope that she would knock it out of the park with her new venture into contemporary. I started with book one " Barefoot in the Sand" last year and enjoyed it so much. Barefoot in the Sun in the 3rd in this series and wow what a "knock it out of the park" book it turned out for me. Secrets! So many secrets in this story. It's a twisted tale where you think you know what the heck is going on and then there it is... another twist. I just love the characters of the series but Oliver really got to me in this book. It takes a special kind of man to stick with Zoe and love her while she's trying to constantly run away. He has a few bad moments but never really gives up on her. I found myself tensing up the more and more i read the second half of this book. I knew there would be a happy ending but for the life of me could not figure out how it was going to get there. It was a hard journey for Oliver and Zoe to get there, but Roxanne St Claire makes you feel that trip. You take it with them as a spectator really. A front row seat. It's not all a serious, trouble tale though. Zoe is quite funny and bring that out in Oliver who is quite a serious guy most of the time. One of my favorite lines from Oliver to Zoe is this one. "Well cover your headlights instead so i can stop staring and eat". One more " Of course she wanted to plow over the tough stuff with sex. And as much as he wanted to drive that plow, refused." Barefoot in the Sun has it all. A well balanced book with everything need to make it a hit! 5 out of 5 stars!
To find out more about this series and all things Roxanne St Claire check out her website here.
www.roxannestclaire.com