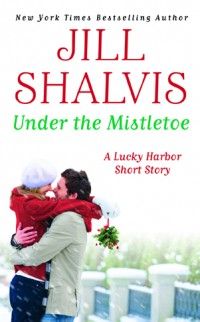 Just One More Kiss
There's no place like home for the holidays. And the Lucky Harbor Bed & Breakfast is bursting with festive lights and good cheer. But for Mia, Christmas is turning out to be anything other than merry and bright. Her recent break-up with her boyfriend Nick has made her return bittersweet. But then a surprise arrives, when Nick follows her to town bearing gifts–and asking for forgiveness.
Nick grew up without a family of his own so he's overwhelmed by the love that Mia receives from all her relatives, gathered together to celebrate the season. Under their watchful eyes, Nick finds earning back her trust the hardest thing he's ever had to do. If he succeeds, he will r
eceive the greatest gift of all, Mia's love for a lifetime.
If
you have been reading Jill Shalvis Lucky Harbor series i have a treat is store for you! Jill has written a short novella about Mia, Ford and Tara's daughter (The Sweetest Thing). I believe the timeline is 5 years since she found Tara and Ford. She's living in NYC and going to college. Right before Christmas she breaks up with her boyfriend Nick when he refuses rather coldly not to come with her to Lucky Harbor for Christmas. Nursing her broken heart she goes back to Lucky Harbor for Chloe and Sawyers wedding by herself. Nick while also adopted like Mia never had a family life like Mia growing up. He was never adopted. He's scared to death of what Mia has because he never had it and had to rely on himself. Less than a hour after refusing with no explanation why he wouldn't go with her to Lucky Harbor he sees the error of his ways. Unfortunately in the morning when he goes to tell her how sorry he is she's already gone. He follows his heart to Lucky Harbor to try and win her back. This was such a sweet story to show whatever happened to Mia. Carlos makes an appearance too. You can find out what happened with them as well. Love when you get a chance to see what happens to secondary characters. This did not disappoint. 5 out 5 stars for Under The Mistletoe by Jill Shalvis.
If you haven't read Jill Shalvis Luck Harbor series you can check that out on her website as well. You don't want to miss the awesome series.