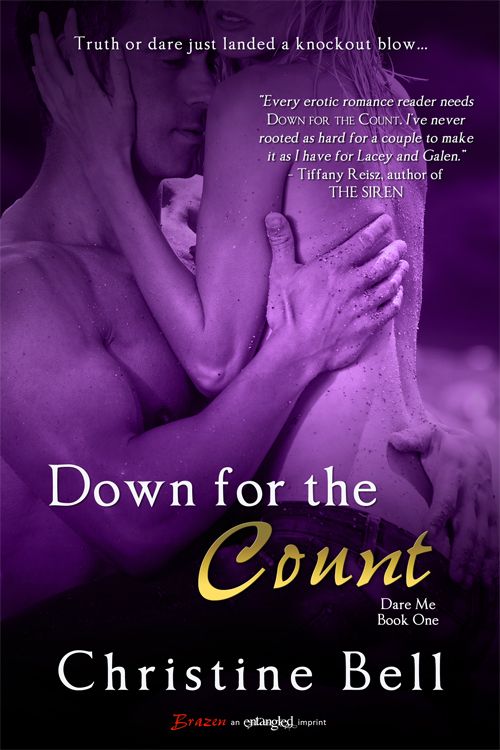 Available NOW!
Truth or dare...
When Lacey Garrity finds her groom in flagrante delicto in the reception hall closet with her bridesmaid, she's saved by her best friend's older brother-childhood tormentor, crush, and boxing bad boy Galen Thomas. Galen's solution is both exciting and dangerous. What better way to forget the mess of her life than go on her honeymoon with a hot guy who can't promise anything beyond today?
...or TKO?
Galen had been counting on Lacey's wedding to put her out of reach-and out of his mind-once and for all, but their steamy Puerto Rican escape is testing all his boundaries. Now that Lacey's embracing her inner bad girl, Galen is tempted to throw in the towel and claim her for himself. But with the biggest fight of his career on the line and an important business merger threatening to derail Lacey's resolve, their romance might be down for the count before it even begins.
I believe this is my first Christine Bell book. I was happy to read it once i read the excerpt. This is one of those books you can enjoy without worry. There was only once character i wanted to smack silly but the rest are lots of fun. Poor Lacy finds her newly minted husband with his pants down getting dirty with one of her best friends. To say the honeymoon and friendship was over is a understatement. Luckily Lacey's other friend Cat and her brother Galen were there to help. Galen who always teased Lacey in their teens has a thing for Lacey but feels he's not good enough. He gets backed into a corner when he is asked to wisk Lacey away from the reception hall. Once alone at his parents cabin in the boonies Lacey decides to get good and drunk. One thing leads to another ( not that yet) and next thing you know Lacey and Galen are on Lacey's honeymoon in Puerto Rico where he plans to help her get over her marriage gone bad and some confidence in herself as well. It doesn't take long when the attraction between them breaks loose. What Galen doesn't know is that Lacey has been half in love with him for years. Unfortunately Lacey also has a dragon for a mother who is going to try and ruin it all. I loved this! It was fun and sexy and full of humor. Loved Galen and Cat as a brother as sister team who love and respect each other and are both there for Lacey. Definitely recommend this book for a good time. 5 out of 5 stars for Down for the Count by Christine Bell.
Find out more about Christine Bell on her website here
www.christine-bell.com
. There are links there to find her on Twitter and goodreads on the top right of the page.