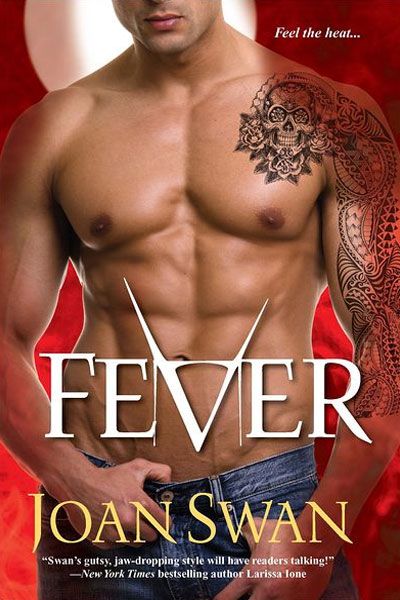 Available Now
Dr. Alyssa Foster will admit to a bad boy fetish…
But when she finds herself face to face with a convicted murderer with a ripped body, a determination for freedom and an eye on her as his get out of jail free card, Alyssa knows she's in deep trouble…. Not just because Teague Creek is a prisoner desperate for freedom, but because his every touch makes her desperate for more.
A man with a life sentence has nothing to lose…
Teague Creek has one shot at freedom, but his plan to escape with a hostage develops a fatal flaw: Alyssa. On the run from both the law and deadly undercover operatives who know of his strange abilities, he needs to avoid trouble, but every heated kiss tells him the fire between them could be just as devastating as the flames that changed him Forever.
Fever is book one in Joan Swan's Phoenix Rising series. I have already read and reviewed book 2 which i really enjoyed and decided i needed to backtrack to book one to find out about the first couple in the series. They can be read as a stand alone but make a little more sense read in order. I had some trouble getting through this one but i was ill for over a month and that was part of the problem. I barely got halfway through when i had to lay it down. I sat down finally yesterday and read the last 200 plus pages and i loved it. Poor Teague really gets his ass handed to him no matter what direction he turned when a a Warehouse Fire 5 years ago kills one of his friends and irrevocably changes the rest of them. From there his life took a downward spiral. His wife commits suicide and while he is searching for answers about the fire a woman helping him is murdered. After that he is accused of the murder and sent to prison and loses custody of his little girl. Finally he makes his break from prison and takes what is the wrong girl as a hostage. What started out as wrong slowly becomes right when Alyssa Foster starts to see the real Teague. Doesn't hurt that she has a twin brother who is a kick as lawyer that decides to help Teague because he hates injustice and because his sister cares for Teague. A secret government agency is after him though and they will stop at nothing to silence him. Action packed and exciting. I grew to love the characters even though some made it tough at times. lol 4 out of 5 stars for Fever by Joan Swan. If you decide to read this one make sure when your done you pick up Blaze next which is book 2 in this series. You'll meet Luke in Fever who is the hero in book 2.
Find out more about Joan Swan and all her books on her website here
www.joanswan.com
.
PS there are excerpts to enjoy there as well.