Ah yes it's Friday again and time for a free ebook! This week we have the lovely Eden Bradley's book The Seeking Kiss Midnight Playground series. Book 1!!!
THE SEEKING KISS
Book One in the MIDNIGHT PLAYGROUND series
An erotic vampire novella
from Samhain Publishing Barnes & Noble Amazon Sony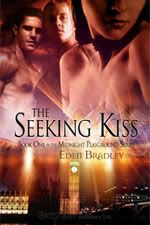 London, 2069: Nissa has known for years about Midnight Playground, the most exclusive of the vampire sex clubs. And for as long as she's known about such places, she's yearned to be there, to become one of them. When she finally gains admittance to the club, she expects to discover a world unknown to most mortals, to be offered the sensual Seeking Kiss. And when she meets Aleron and Hex, they draw her into an intimate world of sex—and love—beyond anything she has ever dreamed of. But when she falls for one of the powerful vampire duo, will it mean the end of her deepest fantasies, or a new beginning she's never dared to imagine?
To find out more about Eden Bradley her books, her blog and where to find her on the internet click here
www.edenbradley.com
.
Don't forget to scroll down to the last two post for giveaways on my blog!