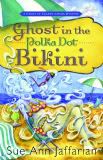 Back of the Book Blurb:
Imagine spending eternity with your backside hanging out—that's what Emma Whitecastle and Granny Apples can't help but think when they meet the ghost of Tessa North frolicking in the surf off Catalina Island. Tessa, a young starlet who died on the island in the 1960s wearing nothing but a polka dot bikini, won't cross over until "Curtis" comes for her. To help the winsome, bikini-clad spirit, Emma and Granny must find out who Curtis is and how Tessa died. Their investigation takes them from the grit and glamour of Hollywood to Kennedy-era political intrigue-before hitting dangerously close to home.
Along with a sprinkling of history, this spirited new mystery series features the amateur sleuth team of Emma Whitecastle and the spirit of her pie-baking great-great-great-grandmother, Granny Apples.
Review: This was a highly enjoyable, quick reading mystery. I would describe it as a cozy with a paranormal twist. The main character, Emma Whitecastle, is a forty-something, recently divorced Hollywood "starter wife", who has discovered a gift for seeing and communicating with ghosts. She has her own paranormal talk show, her ex-in-laws are Hollywood royalty and still adore her, and she has a handsome, manly-man lawyer boyfriend who is also a cowboy. Her great-great-great grandmother, Granny Apples, is her partner in crime solving and very funny.
The mystery begins on Catalina Island, where Emma and her boyfriend have gone for a romantic getaway. They are accompanied by Granny Apples because it's hard to get rid of a ghost. On the beach they meet the ghost of a young starlet named Tessa, who was apparently murdered on the island shortly after the assassination of Robert Kennedy in 1968. Emma and Granny Apples feel badly for Tessa and want to help her cross over. But to do so they need to convince her that "Curtis" is not coming back so Emma begins to investigate Tessa's short life and film career. She discovers that her former father-in-law knew Tessa, and pretty soon Emma's questions result in another murder and threats.
This really was a delightful book. Emma is very likeable, and most readers will admire her for her strength and grace in dealing with a sleazebag ex-husband. She's like a grown-up Nancy Drew, with fabulous clothes, a great lifestyle, and a ghost grandmother. Her boyfriend is supportive, sexy and dependable. Her best friend is dating her mentor, a medium named Miles. Reading this story was like hanging out with a best girlfriend. And to make things even better, the mystery was well-constructed and intriguing, and the pace of the book was just right and kept things moving along.
I have not read the first Granny Apples book, but had no trouble figuring things out - this is easily a stand-alone novel. Highly recommended for a delightful escape!
5 out of 5 Modokker Book Pick Stars
For more information, visit the author's website at
www.sueannjaffarian.com