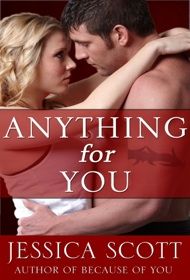 From the author of Because of You comes an all new Coming Home short story.
Sergeant First Class Shane Garrison has spent a year recovering from his combat injuries. A year spent in the arms of the woman of his dreams. But loving Jen comes with a price: every time he touches her, he faces the uncertain fear that loving her might mean losing her forever.
Jen is a breast cancer survivor and with Shane, she's found a man who loves her despite her scars. But her scars may be too much for their love to survive.
As their love grows, so does the risk to Jen's life. And Shane must make the toughest decision any man can make to save the woman he loves.
If you have read Jessica Scott's Coming Home series she gives us a short story to go with the series involving the characters from book 1(Because of You). In this short story we pick back up with Shane and Jen and their lives after their book ends. Jen had a vicious battle with breast cancer and had her breasts removed in the course of her treatment. Shane is scared to death if Jen gets pregnant and then her cancer returns he'll lose her and possibly the baby as well. He struggles with what they should do. Unfortunately he doesn't discuss what to do with the one person he needs to, Jen. When she finds out by mistake it might the one thing that could end them. You get a few glimpses to other characters from the series as well. Of the two books in this series so far book 1 was my favorite and i loved Shane and Jen. If you haven't read this series yet you should definitely give book 1 a shot and then you can read this short story and enjoy the immediate reunion with the characters. 4 out 5 stars for Anything for You by Jessica Scott.
Find out more here
www.jessicascott.net