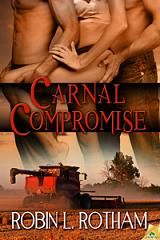 Joe Remke just has one qualification for his lovers—he wants them gone before sunrise, which makes his new bunkmate AJ about as safe as a woman can be around him. It also makes his determination to sleep with his boss downright stupid, because if Brent ever gives in, he'll be looking for a new job.
Brent Andersen knows sex with his right-hand man Joe is inevitable, but he's not going down without a fight. Putting the new female hired hand in their cramped RV was a stroke of genius, taking the heat off him while protecting her from the horny guys on his custom farming crew.
AJ Pender's bunkmates may hide their feelings for each other from the rest of the crew, but they aren't fooling her—Brent and Joe are hot for each other, and it's all she can do not to cry at the thought. Not that they'd be interested in her, of course, and if they ever found out she fantasizes about being the meat in their farmer sandwich, they'd probably die laughing.
Fortunately for Brent and Joe, fantasies have a way of outing themselves and AJ's are right up their alley. But even three-ways have their risks, and AJ can serve as a buffer for only so long before the tension between them explodes.
Warning: Flying BOBs ahead—and that's just the warm-up! Strap yourself in for a wild ride complete with ménage, m/m, and a voyeuristic f/f scene hot enough to make three grown men beg for mercy.
I don't think i have ever read a erotica where the characters were farmers. Brent Anderson is the owner of a company that does custom harvesting for farmers. His right hand man and best friend is Joe Remke has been with him a long time. Joe has had some dark times in his past. A lot of stuff even Brent doesn't know about. Brent takes on a new hand AJ Pender who he doesn't realize is a woman til she shows up for work. For that reason he has her bunk with Joe and him to protect her. AJ has had a rough life filled with many disappointments. At this point she just wants to be treated like all the other work hands. Brent and Joe have had women together before but they think they have to protect AJ from that. She seems a bit innocent to them, but when they catch her pleasuring herself all bets are off. This story had me all over the place. I laughed and giggled but at the same times the book was loaded with hot sex scenes as well as a journey of sorts for all three to find their way to each other. Everyone has things in their past they want to forget but sometimes to heal and love you have to talk about it and deal with it to get past it. This is what happens here with these three. I enjoyed it. 3 out of 5 Modokker Book Pick Stars for Carnal Compromise.
Find out more about this book and Robin L Rotham here on her website
www.robinlrotham.com