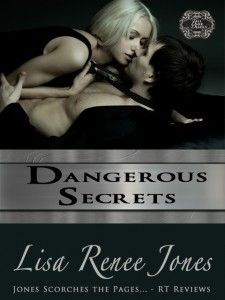 Tall, Dark, and Deadly #2: DANGEROUS SECRETS
THE HERO: Luke Walker—the middle Walker brother and a former Navy SEAL. He is the chameleon, able to get along with anyone, able to fit in anywhere. Growing up as the middle brother, Luke was always the one who kept peace between siblings, instinctively knowing how to calm tension. When he joined the
Navy SEALS, he found his steady, easy going, personality a tool under pressure. He liked the structure within the SEALS, the way the team resembled the family unit he once had been with his brothers and parents. Soon Luke became a leader, not just a fighter for the SEALS, but an injury stole his career and forced him to rethink his future. He took the change in stride, just as he does life. Now he's home, playing mediator to his brothers again, and loving every minute of it. Still, he clings to his SEALS roots, and he's more conservative than his brothers, very regimented. He wears his hair short and keeps his workouts intense. He is ready and waiting for the next place life will take him.
The story:
Being a divorce attorney for the rich and famous isn't all it's cracked up to be. Julie Harrison has learned that love doesn't last, and she's sworn never to make the same mistakes as her mother, or her clients. She uses the games men play to keep them at a distance. The only man who managed to break down her walls was Luke Walker, a Navy SEAL who loved her and left her, and changed her forever.
When Luke arrives back in New York, running Walker Security with his brothers and having left his Navy SEAL days behind, he sets his sights on Julie, the woman he's always wanted and couldn't have. Except, she runs from him every time he gets close.
But now, one of Julie's clients, a powerful judge, gets involved with a dangerous cartel, and his soon-to-be-ex wife ends up dead. Julie's next on the list, and she finds herself on the run from those who believe she knows too much, and counting on Luke to keep her alive. In the deepest, darkest moments of the night, passion will bring them together while danger threatens to tear them apart. Can Julie and Luke trust each other and find their happy ending before they find … the end?
This is the 2nd book in the Tall, Dark and Deadly series but Lisa Renee Jones. The series is about the three Walker brothers and the women they love. Book one was Royce and Lauren's book and book two is Luke and Julie which will leave Blake for book three. In book one you get a intro into all the brothers. They are all tall, capable and sexy as hell. They have the kind of relationship you wish you could have with your siblings. Family loyalty to each other. In this book Luke had a relationship of sorts with Julie before. A month long affair while he was still a Navy seal. When they parted ways he felt there was something more there but wasn't sure Julie felt the same. Now they find themselves together again when they are both trying to catch a flight home for Royce and Lauren's wedding ( Lauren is Julie's best friend). Seems like they end up stranded by a snow storm at the same hotel. Julie has a problem though. At the hotel she feels like she's being watched. The threat follows her home. It seems the judge she is representing in a divorce might be up to no good and his soon to be ex comes to see her to warn her and next thing you know the wife is dead. Supposedly committed suicide but she's cremated and buried before if can be investigated. Now someone is after Julie because they thinks she knows something. Luke's protective instincts kick in and in turn heats up the vibes between the two. Lots of action, mystery, great sex scenes and figuring out who exactly is the bad guy. I loved the dialog between the brothers and between Luke and Julie and although throughout the book Julie is kind of dragging feet she really catches up fast at the end. Great book. 5 out of 5 Modokker Book Picks Stars for Dangerous Secrets by Lisa Renee Jones.
Find out more about this book and the entire series on Lisa Renee Jones website here
www.lisareneejones.com
Then go to her blog to find out the big contest that is associated with the release of this book. You can find that here
www.lisareneejones.com/blog
. Good luck!