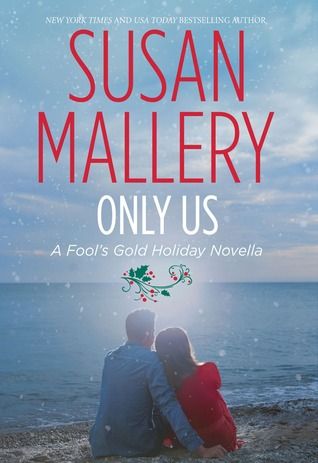 Fool's Gold, California, a charming small town that's short on men, has captured thousands of readers' hearts in Susan Mallery's New York Times bestselling series. Fall in love with Fool's Gold's beloved characters and heartwarming romance in Only Us: A Fool's Gold Holiday novella!
Pet groomer Carina Fiore wants nothing more than to confess her feelings to the man she loves. She's drawn to veterinarian Cameron McKenzie's good looks, caring nature and especially his devotion to his young daughter. But he's also her boss and a good friend. Putting her heart on the line could cost Rina both her job and their friendship forever.
Since his divorce, Cameron hasn't been willing to trust his heart--or his daughter--with anyone else. For months he's pushed away all thoughts of taking Rina in his arms and kissing her, unwilling to risk their friendship for a single night of pleasure. But when a kiss under the mistletoe unlocks the simmering passion between them, Rina and Cameron may just find love for the holidays after all....
This is a novella that goes along with Susan Mallery's Fools Gold series. I think you could also read it as a stand alone if you wanted too. Carina or Rina as she is called in the book is a pet groomer that works out of Cameron McKenzie's veterinarian office. She also helps take care of his little girl. She falls in love with him but he's kind of oblivious and really just afraid to change anything. His wife left him when his daughter was a just a baby so trusting does not come easy. Carina's friend Beth convinces her to tell him how she feels and it backfires. Cameron rebuffs her so she plans to move her business out of his clinic and desperately tries to pretend like she's OK as she continues to care for his daughter and get through the holidays until she can get away from him. You can feel the hurt Carina feels as you read this story and the love she feels for both Cameron and his daughter. You can also feel for Cameron because he doesn't want to lose what he already has with Carina but is also afraid to give his heart again. Touching, wonderful short story. Love the ending. 4 out of 5 stars for Only us by Susan Mallery. Wish it would have been a full book but you take the little bits you get and enjoy them.
Find out more about Susan Mallery and her Fools Gold series here
www.susanmallery.com