I don't often do weekend posts but i found out that Sierra Dean's debut book "Something Secret This Way Comes" was free on Amazon right now i just had to come and post so people could get a chance to try this series out if you haven't so far. This ebook was first published in May of 2011. I've read the entire series so far and loved everyone. Give it a try!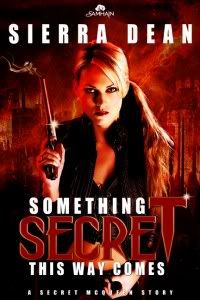 Some secrets are dangerous. This Secret is deadly.
Secret McQueen, Book 1
For Secret McQueen, her life feels like the punch line for a terrible joke. Abandoned at birth by her werewolf mother, hired as a teen by the vampire council of New York City to kill rogues, Secret is a part of both worlds, but belongs to neither. At twenty-two, she has carved out as close to a normal life as a bounty hunter can.
When an enemy from her past returns with her death on his mind, she is forced to call on every ounce of her mixed heritage to save herself—and everyone else in the city she calls home. As if the fate of the world wasn't enough to deal with, there's Lucas Rain, King of the East Coast werewolves, who seems to believe he and Secret are fated to be together. Too bad Secret also feels a connection with Desmond, Lucas's second-in-command…
Warning: This book contains a sarcastic, kick-ass bounty hunter; a metaphysical love triangle with two sexy werewolves; a demanding vampire council; and a spicy seasoning of sex and violence.
No idea how long it will remain free so grab it now!
click to buy on Amazon for Kindle users.
www.amazon.com
Find out more about Sierra Dean here
http://www.sierradean.com/