Review by Sarah
Sexiest Vampire Alive by Kerrelyn Sparks
Available at Amazon and Barnes and Noble
September 27, 2011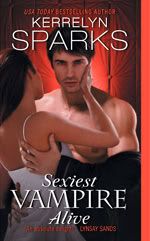 Back of the Book Blurb:
The secret is out . . . Vampires do exist!
When a video reveals to the world that vampires live among us, it's up to "young" vamp Gregori Holstein, VP of Marketing, to persuade the U.S. government to declare the video a hoax. But first the president wants a favor, one that requires Gregori to spend forty-eight hours in very close contact with the First Daughter.
Abby Tucker would rather spend her nights in a lab than attend her father's state dinners. She's dedicated her life to finding a cure that will save her dying mother and needs only two more ingredients. To find them, she'll have to venture into the most dangerous region of the world—with a vampire. Her Armani-clad escort may be Undead, but he still makes her heart race. And the greatest danger won't be the predatory hordes lying in wait for them; it will be her undying desire for the Sexiest Vampire Alive.
Review: Sexiest Vampire Alive is the story of one of the youngest (he was turned less than 30 years ago) vampires in the Love at Stake world, Gregori Holstein. As with her previous books, this one has all of Kerrelyn Sparks' trademarks - a fast pace, sparkling humor, witty dialogue, likeable characters, and a sweet and sexy romance. These books are just so much fun. I have to admit, though, that I was a little worried about Gregori's story. He has a reputation as a playboy, and is rather smooth and urbane, qualities I find unattractive and unappealing in a hero. But I should have trusted in the author's skill at revealing characters to have more depth to their personalities. As with previous stories, she takes characters who were seemingly one-dimensional, and realistically reveals aspects of their personalities that are both new and seem quite natural, not forced. We learn that Gregori is really not a playboy, but has a gentle kindness and consideration for the feelings of others. At the same time, he has been training as a warrior with the older Scottish vamps, and can definitely protect himself and Abigail, the mortal he is falling in love with. Abigail is a great heroine - she is the seldom seen eldest daughter of the President, and has devoted her life and brilliant scientific mind to studying her mother's disease in an attempt to save her. She has spent most of her life in a gilded cage, surrounded by bodyguards and the Secret Service, her behavior always on display and judged in relation to her father's political career. She misses freedom, just as Gregori misses a life in the daytime, and feels he must always act the right way in order to blend in with the older vampires. They are a great match, and their attraction is believable and very sexy.
The big bad villain of this series has been Casimir, leader of the Malcontents, but he was killed at the end of the last book. But by the end of this story we see a return of Master Han, and the introduction of a Demon, so the plot thickens as the good guys have more fights in their future. I'm hoping the next book will be Russell's story - he was turned by Master Han during the Vietnam War, and left in a vampiric coma for 39 years.
Readers new to the Love At Stake series will easily enjoy this book, but will probably get more out of the series by reading it in order. There is much history between these friends, and their centuries long battle with the Malcontents.
5 out of 5 Modokker Book Pick Stars
For more information, visit the author's website
http://www.kerrelynsparks.com/
The Love At Stake Series:
How To Marry A Millionaire Vampire
Vamps and the City
Sugarplums & Scandal: Love at Stake Novella "A Very Vampy Christmas"
A Very Vampy Christmas
Be Still My Vampire Heart
The Undead Next Door
All I Want for Christmas is a Vampire
The Secret Life of a Vampire
Forbidden Nights with a Vampire
The Vampire and the Virgin
Eat, Prey, Love
Vampire Mine
Sexiest Vampire Alive