I received a copy of this book through netgalley for my honest opinion and review.
First i have to say i have never read a Eve Silver book. I kept hearing things about this book so i decided I needed to read it. Lucky for me netgalley had it and i did get to read it. I didn't know that it was part of a series until right before i read it but i asked Eve Silver ( on twitter) if it would be hard to follow without reading the other 3 books first. She said most people seem to do fine so i was happy to hear that and settled in for some reading time. I will say right now that it does stand alone but while reading i knew it would be much better with the other brothers stories so i hope to get those read soon.
I didn't feel lost though.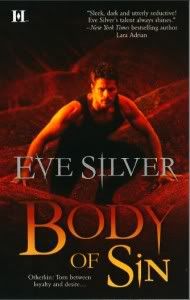 Body of Sin
August 23, 2011
From the back cover:
Once the favorite son of the Lord of the Underworld, Lokan Krayl held enviable privileges and powers. Powers that led to a devastating betrayal—murder.
Resurrected by his immortal brothers, Lokan is still trapped in purgatory. He has no way to contact his family. He has no answers. In order to find the truth about his death and who killed him, he must escape his prison. And there's only one way out: through the twelve gates of his eternal enemy, Osiris.
But Lokan has help. Bryn Carr, the woman who duped him once before, is his beautiful yet unwanted guide. She's been sent by his brothers to aid him. She's his last hope. Lokan must place his fate—and that of the mortal and immortal worlds—in the hands of the one woman he can never trust.
Lokan Krayl. First i just love this name. He is hot as all get out by the description the author gives too. The Book goes back and forth from 7 years ago to when Lokan met Brynn til present day. Lokan is dead. Murdered by someone he never expected. He died for someone he loved. He needs to find a way back to topworld to live in order to protect that which he loves and that he can alone can protect. This took me a while to read but not because i didn't like it. It's one of those stories you absorb slowly because it's not a cut a dry book. You have to think a little. I was very engaged in the characters. Brynn and Lokan are so different yet compliment each other. I loved both characters. I liked all the supporting characters, Lokan's 3 brothers and Brynn's 3 brothers. I am always impressed when a author can set up a world outside of our normal world and have it make sense. Come up with names for everything and it not sound corny. Eve Silver hit it all. The whole set up of topworld, null zone and the underworld and everything else. I loved and hurt for Lokan and Bryn on their journey through this book. I cared. That should say it all. I give Body of Sin 5 out of 5 Modokker Book stars. To find out more about this book, read a excerpt and this series you can check out Eve Silver's website by clicking here
www.EveSilver.com